Many Faces to Many Places
Multi-Award Winning Author - Judy Azar LeBlanc
~ Awards ~
Winner-2008 National INDIE Excellence Award - Audio Fiction
Winner-2007 Reader Views Literary Choice Award - Fiction
2007 New York Book Festival - Honorable Mention Audio/Spoken Word
Winner-2006 New Book Reviews Spotlight Best Inspirational Book of the Year
Winner-2006 USA Book News National Best Inspirational Audio Book Award
2006 Los Angeles DIY Book Festival - Honorable Mention Audio/Spoken Word
2006 Word/Work Book Award - Media Darling Literature, Art & Sound
A Spiritual Search for the Ultimate Truth
Happiness, fear, loneliness and love are all parts of a state of being that every person experiences in their lifetime. Many Faces to Many Places is a spell-binding three-part animated story of a courageous spirit who, with her unique gift of communicating with nature, takes an extraordinary journey through a world of timeless knowledge. Guided by a pair of "floating eyes", the reader is led through the magical adventures of one soul's journey in search of truth.
Featured on KAZ-TV, AM Arizona Show, CIUT-FM Radio, Toronto, a one hour radio interview with Joe Carroccio on Achieve Radio, the Good Life News, and a special event book signing at the 2005 Christian International Bookseller's Convention in Denver.
Some of the "golden nuggets" that Many Faces finds on her journey include: "I am not called Elusive, the Great Golden Butterfly of Happiness for nothing, the more that I am chased, the more elusive I become." (pg. 15) - "To be paralyzed in the face of fear is only temporary, but to never go beyond is crippling for life." (pg. 12-13) - "To have a friend, you must be a friend, and to be a friend, you must first make friends with yourself." (pg. 18) - "You are the gold and love is within your heart." (pg. 48)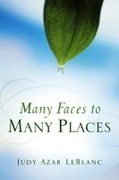 Bravo! Excellent!" says NewBookReviews.org
Ray Ward at New Book Reviews says: "Very rarely a book comes along that impresses me with its wit, charm and clarity in dealing with all the emotions, traits and frailties of the complex animal known as human beings, as well as Many Faces to Many Places by Judy Azar LeBlanc.
LeBlanc's latest book shines like a diamond in a coal mine and is a gem is of rare quality indeed. Her metaphors are unique and crystal clear and offer insight and timeless wisdom into the art of living life to its fullest. Her use of familiar characters in a very illuminating manner brought smile after smile to my face as I read this nearly magical book. To author Judy Azar LeBlanc, Bravo! Excellent!"
"Many Faces to Many Places is an outstanding, thoroughly enjoyable, and powerful book; one that everyone should read and a book that anyone reading it will benefit."
..... LATEST BOOK NEWS ...
Theology 101 in Bite-Size PieceS
By Award Winning Author Judy Azar LeBlanc
***WHERE TO BUY***
Spoken Books Publishing, Amazon.com, Barnes and Noble, Borders Books, Ingram Book Company, Spring Arbor Book Distributors, Xulon Press, Mobipocket.com, Audibles.com, ebookmall.com, and EpicBooks.com
ISBN: 1-59467-66-9 ($9.99) Trade Paperback
ISBN: 1-60031-001-X – ($17.95) Audio – 2:52:19 Running Time
BEHIND THE SCENES
Honored Member of the Cambridge Who's Who, Toastmasters International, and the East Texas Author's Guild, Multi-Award Winning Author, Judy Azar LeBlanc was born in Raton, New Mexico, and was raised and educated in Albuquerque. She is a graduate of San Jose University, in San Jose, California, where she did graduate work in Industrial Psychology, and a Magna Cum Laude graduate in Theology from Life Christian University.

Before marrying, she made a career in the defense industry, and after extensive travel, she and her husband retired to a small town in Baja, Mexico. During the 19 years of living in Mexico, Judy Azar LeBlanc wrote the English column for a magazine published by the federal government of Mexico, as well as the English column for a state published newspaper. She taught English both at the high school level and at the university in her community.

Shortly before returning to the United States, Judy Azar LeBlanc completed her fourth and favorite work titled "Many Faces to Many Places". Judy is internationally published in the FONATUR Tourist Magazine, sponsored by the federal government of Mexico and is featured in the Xulon Press Publications entitled God's Rainbow Book, Praise Reports, and How I met my True Love. Some of her other works include "Things My Father Never Taught Me", "The Compromise", and "The Unveiling".