PRAISES - Multi-Award Winning Title in 2006, 2007 and 2008
HERE IS WHAT REVIEWERS ARE SAYING
"Excellent" says BookReview.com
Heather Froeschl says: "Judy Azar LeBlanc has written a memorable book that is inspirational and timeless. Her creativity abounds and her ability to impart words of wisdom through her characters is uniquely executed. You won't soon forget the journey in this tale and may be inspired to take a closer look at your own." – Bookreview.com
"Allegorically using the medium of fiction is done beautifully by the author." - J. Kaval, Katha Kshetre International Literary Journal
"An engaging and perceptive flight of fancy that is welcome in this genre." - Craig Hart, Christian-Fiction-Online
"Wildly and wonderfully imaginative." - Jeffrey Leach, Top Amazon Reviewer
"Thought provoking and a well told tale." – Anne K. Edwards, Mysteryfiction.net
"Magical, Enchanting, Imaginative ...The profound insights of "Many Faces to Many Places" will linger long after you have finished reading this remarkable story." - Richard R. Blake, Amazon.com
READ THE COMPLETE REVIEWS AT AMAZON.COM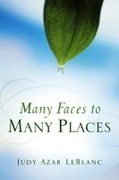 SELECTED AS FEATURE BOOK OF THE MONTH BY ALLBOOK REVIEWS, AND SPOTLIGHT OF THE WEEK BY NEW BOOK REVIEWS.
"An entertaining, quick read that lingers in your mind long after you reach the last page. Highly recommended by reviewer." - Shirley Roe, AllbookReviews.com
"Many Faces to Many Places" goes deeper, exposing all of mankind's inner demons as well as the true beauth that makes us human." - Joanne Benham, Reader Views
USA Book News says this: "Many Faces to Many Places is an inspirational story that explores the soul's journey. A deeply moving and imaginative read."
"A short but powerful, inspirational read." - Daniel Jolley, Top Amazon Reviewer
"The real value of this work is in the allegorical nature." - Tami Brady, RoundtableReviews.com
"An effectively instructional read." R. R. Bowker - Bookwire
"It is well written and nearly every human frailty and strength makes an appearance." - Charles Ashbacher, Top Amazon Reviewer
"I especially liked the easy style." - Swamy Swarna, Book Pleasures