Sell Sheet
Many Faces to Many Places, 2006-2007-2008 Award Winning Title
Book Awards
2008 National INDIE Excellence Award - Audio Fiction
Reader Views 2007 Literary Choice Award – ReaderViews.com
New Book Reviews 2006 Spotlight Best Inspirational Book of the Year – Newbookreviews.org
USA Book News 2006 National Best Inspirational Audio Book of the Year –USAbooknews.com
Honorable Mention Audio Book – 2006 Los Angeles DIY Film/Book Festival
Finalist –2006 Word/Work
Book Award – Media Darling Literature, Art & Sound
Title:

Many Faces to Many Places

Author:

Judy Azar LeBlanc

Category:

Spiritual Fiction

Publication Date:

August 04, 2006

Publication Date:

June 15, 2006

Trim:

3-CD 2:52:19 - total running time

Price:

$17.95

Availability: Spoken Books Publishing; Xulon Press; Ingram Book Distributors; Spring Arbor Book Distributors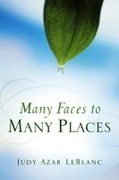 Synopsis
Happiness, fear, loneliness and love are all parts of a state of being that every person experiences in their lifetime. Many Faces to Many Places is a spell-binding three-part animated story of a courageous spirit who, with her unique gift of communicating with nature, takes an extraordinary journey through a world of timeless knowledge.
Guided by a pair of "floating eyes", the reader is led through the magical adventures of one soul's journey in search of truth.
Reviews
"Bravo! Excellent!" … Ray Ward, New Book Reviews.org
"A deeply moving and imaginative read" … USA Book News
"A highly recommended read" … Shirley Roe, All Book Reviews.com
"Excellent" …Heather Froeschl, Book Review.com
"Allegorically using the medium of fiction is done beautifully by the author" … J. Kaval, Katha Kshetre International Literary Journal
"An engaging and perceptive flight of fancy that is welcome in this genre" … Craig Hart, Christian-Fiction-Online
"Wildly and wonderfully imaginative" … Jeffrey Leach, Top Amazon Reviewer
"Thought provoking and a well told tale" … Anne K. Edwards, Mystery Fiction.net
"Magical, Enchanting, Imaginative: ... Richard R. Blake, Amazon.com
"A short but powerful inspirational read" ... Daniel Jolley, Top Amazon Reviewer
"An effectively instructional read" … R. R. Bowker – Bookwire
Biography
Honored Member of the Cambridge Who's Who, Toastmasters International, and the East Texas Writer's Guild, Award Winning Author, Judy Azar LeBlanc was born in Raton, New Mexico, and was raised and educated in Albuquerque. She is a graduate of San Jose University, in San Jose, California, where she did graduate work in Industrial Psychology. Before marrying, she made a career in the defense industry, and after extensive travel, she and her husband retired to a small town in Baja, Mexico. During the 19 years of living in Mexico, Judy Azar LeBlanc wrote the English column for a magazine published by the federal government of Mexico, as well as the English column for a state published newspaper. She taught English both at the high school level and at the university in her community.
Shortly before returning to the United States, Judy Azar LeBlanc completed her fourth and favorite work titled "Many Faces to Many Places".

Some of her other works include "Things My Father Never Taught Me", "The Compromise", and "The Unveiling".
Contact Information
Judy Azar LeBlanc
243 Hideaway Lane East
Hideaway, Texas 75771
903-881-5080