A Conversation with Judy Azar LeBlanc Award Winning Author of Many Faces to Many Places-A Story
Today, Norm Goldman, Publisher & Editor of Bookpleasures.com is pleased to have as our guest, Judy Azar LeBlanc, award winning author of Many Faces to Many Places-A Story. Judy's book won the 2006 USA Best Book Award in the Spiritual Category
Norm:
Good day Judy and thanks for participating in our interview.
Judy:
Well good day to you Norm, and "Thank You" for the privilege of participating in this wonderful interview for Bookpleasures.com, and for the honor of being included in your most impressive list of inspiring authors.
Norm:
When did your passion for writing begin?
Judy:
When did my passion begin? That is a tough question to answer. I don't know when it began! (Laugh) … It seems as though that's all I have ever done is write.
When I was very young and going through the different stages of growth, I felt that what I what I did and thought were such common occurrences. I felt shy about talking about them, so I kept a silent journal. That was one factor. The other factor was that I discovered at a very young age when something "secret" was on my mind or if I wanted to say either mean or nice things to people, I would write them a letter and keep them in a box.
Then when I was in college and in the professional work force both, I always had to write about what others wanted me to write about, which was good experience for developing writing skills, of course.
However, I think one gets really tired of writing about what others want as opposed to writing what you really want to, which of course, includes your personal style. Thus, when my husband retired, I donated my "red-pens" to my co-workers and said "I'll never write again"! That's how tired I was of writing. After moving down to Baja, Mexico and spending several years "unwinding", the urge to write came back to me, but this time I was thrilled about it because that meant that I could write about anything that I wanted to write about ~ and do it "my way". That was the inspiration for my first book titled "Things My Father Never Taught Me", which was followed by "The Compromise", "The Unveiling", and finally my fourth and absolute favorite work titled "Many Faces to Many Places".
Norm:
Why did you feel compelled to write this book?
Judy:
The compelling factor in writing this book was the desire to share my findings. I found that most people that I speak with on these particular subjects have the exact feelings that I have only they feel like I used to feel when I was journaling. Once these kinds of questions are subject to open discussion, I find that most people discover much of the same answers which I find quite interesting to me. It makes me feel more at one with humanity and with a better understanding of universal laws.
Norm:
How did you get the inspiration for this book?
Judy:
The inspiration came when I was living in Baja, Mexico. I was living in a town with a population of 7,000 that is about 800 miles south of the US Border. My husband and I were surrounded by miles and miles of desolate beach surrounding the Sea of Cortez. There were no shopping malls, no traffic noises to speak of, absolutely no entertainment, and no one spoke English. We learned how to entertain ourselves by studying the behavior of the indigenous wildlife, beachcombing, and fishing.
After a few years of going to the beach everyday with my dog, I began to think much more on a spiritual level; and because I was completely surrounded by nature, I became inspired to write. This is the reason that all of my characters in Many Faces to Many Places pertain to nature. For example, "Elusive" the beautiful Golden Butterfly of Happiness" was developed because of the quality time that I had to sit on the beach and watch the carefree nature of the butterfly. She's one of my favorite characters in the book.
Norm:
What kind of research did you do to write this book?
Judy:
This was difficult because I was living in a foreign country and didn't have access to any kind of English material or to the Internet because it was non-existent. However, since I am a Psychology major with a minor in Philosophy, when I was in college I discovered that my passion for both subjects came quite easily to me. I had absolutely no trouble whatsoever understanding the writings of Plato, Socrates or any of the other famous philosophers and psychologists that we had to study. That's when I realized I had a gift to internalize what others thought to be complicated material and retransmit it terms that are very easy and simple to understand. It is like that old saying of "now explain that to me in terms that I can understand." Since I was living in a foreign country, and since I did keep most of my previous written works, between those works and my journals, I felt I had enough material to write a book. As it turned out, I ended up with writing four.
Norm:
How did you overcome these challenges?
Judy:
The way I overcame these challenges was to get up at 2 am every morning to write until about 7 or 8 am. That appeared to be safe window for me. Needless to say, my hours became quite crazy. Aside from those crazy hours, I backed up everything. Once I finished the manuscript, I asked a friend to bring me down a list of publishers. When it arrived, I wrote most of them query letters, and received three favorable responses. Then, after many months of phone calls to friends in the USA asking them to investigate these particular publishers, I made my final decision. From that point on, all correspondence was "snail-mail," between countries. That sure took a big chuck of time ~ (Laugh) … Now, gosh everything is via email with attachments!
Norm:
What challenges or obstacles did you encounter while writing your book?
Judy:
Ah Norm, you wouldn't believe the challenges and obstacles that I had to overcome. I used to think I was crazy for even trying. Just imagine living in a foreign country where no one spoke English, and other than the telephone, there was no other means of communication with the outside world. I actually started writing my first book by hand. Who does that anymore??? (Laugh) … After about 6 months of total frustration, my husband secretly asked a friend to sneak a computer down in the trunk of his car. Imagine having a huge clunker without Windows XP and an old Epson ribbon printer for your computer.
Well, actually, I guess we all started out that way, didn't we. How soon we forget. (Laugh) … Needless to say, when this clunker arrived as a surprise, I was beside myself with happiness. After about 2 months of learning the computer, I began to transfer my written pages onto one of those old "floppy disks". It was much easier now that I was able to cut and paste, move things around, do a complete spell check, and do a global replacement on words. Why I thought I had died and gone to heaven!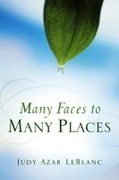 What I hadn't counted on was the electricity going out without warning at any time of the day. It would often go out while I was right in the middle of one of my inspirational moments ~ then PRUGH ~ the electricity would go out and I would lose all of my work! After a few horrifying experiences, I became so gun shy that I began to save almost every single line of my work. On top of that, I prayed that nothing would happen to the computer because that meant that I would have to sent it back to the USA to be fixed, which meant that I would have to wait for the friend who brought it down to return to Baja to take it back. Thank God nothing ever happened.
Norm:
What is the USA Best Book Award and how did you feel to win the award in the Spiritual Category?
Judy:
USA Book News is owned and operated by a gentleman by the name of Jeffrey Bowers who lives in Tucson, Arizona. I met him at a workshop that he gave at a Book Convention in Phoenix. His goal is to equip writers for the "publishing and promotional world" and he devotes his time to searching for unique books from both mainstream and independent presses that go beyond those on the "NY best-seller lists" in order to bring to attention those books that are worthy of attention.
He is also the editor of the electronic publication USABN Magazine Online. What was so exciting for me about this year's Best Books National Book Awards was that there were over 1,200 entries including some from Simon Schuster, Warner Books, New American Library which is a division of the Penguin Group, New World Library, and hundreds of independent press titles. When I was contacted about winning, I think it took me two days to actually internalize the news. (Laugh) …
Norm:
How do you approach the work of writing?
Judy:
The way I approach the "work" as you so succinctly put it of writing, is exactly like that. I think of it as a 24-7 (24 hours, 7 days a week) job. Once one gets into the writing mode, one needs to think about it morning, noon and at night. I once was at the grocery store when a piece of dialogue came to me and I grabbed my notepad and pen and immediately began to write. This would often happen while I out to dinner; walking the dog and sometimes even while I was sleeping.
Actually, some of the dialogue in the last chapter of Many Faces to Many Faces came to me in my dreams, so I jumped out of bed and ran to the computer to re-capture it. Inspiration comes when it comes, so one needs to be prepared to at all times with a minimum of a recorder or a notebook. If I wasn't inspired, then I would re-write what I had or I would edit ~ it is important to be writing every single day, even if it is only for a few hours.
Norm:
Do you have a local writing community or fellow writers that you look to for support and advice?
Judy:
You're one of them, Norm, and a very important one at that and I would recommend this for all writers and authors. I do belong to the Arizona Authors Association, the Arizona Publishers Association and numerous small writer's groups including the Yahoo and Google groups. Through this kind of networking, an insurmountable amount of writer's newsletters, conventions, workshops, book fairs, book festivals, marketing and publishing newsletters come, and soon one is inundated with a formidable amount of incredibly helpful information. I believe this is very important for all writers and authors.
Norm:
How have you used the Internet to boost your writing career?
Judy:
Norm, I sincerely believe that it is the Internet that is now "the tool" to boost the career of writers and authors. According to the information that is given to us at writer's conferences, NY editors and book publishers actually have people scanning the Internet to keep up with the book world. The Internet is an affordable, and a non-exhaustive source for promoting and advertising. Aside from radio and TV, it's the Internet.
Norm:
Who are your favorite authors, and why do they inspire you?
Judy:
One of my favorite authors, of course, is Richard Bach. I think the reason that he inspires me so much is that his books are similar in style to mine, and they are much shorter than mine. As I mentioned earlier, Jonathan Livingston Seagull was only a tad over 7,000 words. Who says it can't be done??
Norm:
What was the first piece you ever wrote?
Judy:
The first published piece I ever wrote was for a magazine back in the 70's in California. It was titled "Warm Fuzzies and Cold Pricklies". It was a short animated story about the different "positive and negative" words that people say to or about each other, and was represented by my creation of the "little people" who passed out different pieces of fruit from their fruit baskets to each other. It had a good message, as does Many Faces to Many Places.
Norm:
What was the reaction?
Judy:
It was well received and published.
Norm:
Was there anyone who really influenced you to become a writer?
Judy:
Norm, if there was, I don't remember ~ It just is something that I have always done without thinking about it ~ my favorite saying is "write it ~ don't say it."
Norm:
What is next for Judy Azar LeBlanc?
Judy:
I am working on another book, and must admit to you that I am struggling with time to finish it. I have been quite busy with different book events, and with the promotion of Many Faces to Many Places. I am tickled about this, but I sure wish I had the same kind of quality time to live, breathe, think, and dream the dialogues and characters in this new book that I did for the others.
Norm:
Is there anything else you wish to add that we have not covered?
Judy:
Yes, Norm, thank you. What I would like to share with all of the writers and authors who read this interview is to please remember that quitting is not an option, and if one does not continue; then the dream dies. "Don't let your dreams die ~ keep them going."
Norm:
Thanks once again and good luck with all of your future endeavors.
Judy:
Thank you for having me, Norm. It is an honor for me to be a part of Bookpleasures' family.